Pro-Check Certified Home Inspections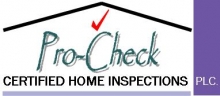 Pro-Check Certified Home Inspections
Joe Chavez
4511 East Weaver Road
Phoenix, AZ 85050

Phone: 480-201-9197
Email: Click Here

Description of Services
Pro-Check Certified Home Inspections PLLC is a fully registered company with the Arizona Corporation Commission and the State Board of Technical Registration.

- "There's no such thing as a 1 hour home inspection" Our customers expect everything and we provide it.
- We provide customers with computer generated inspection reports that include descriptive narratives and photographs.
- Skillful in differentiating between minor maintenance issues and other findings that may require further evaluation and correction by a qualified licensed contractor.
- Achieved National Certification as a residential Building Inspector in order to advance knowledge of building standards and code requirements.
- Over 600 residential building inspections at various stages of construction performed to date.
- Perform residential plan reviews on both custom and standard building plans for city planning departments, architectural firms and large scale developers.

Arizona Areas Served by Pro-Check Certified Home Inspections
Services & Areas of Expertise
Certified Home Inspections, Pre-Sale Home Inspections, New Home 1st Year Warranty Inspections and New Construction Phase Inspections.
Education & Credentials
Arizona Certified Home Inspector

ICC Certified Residential Building Inspector