Professional Home Inspection, LLC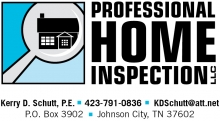 Professional Home Inspection, LLC
Kerry Schutt, P.E.
PO Box 3902
Johnson City, TN 37602

Phone: 423-791-0836
Email: Click Here

Description of Services
Professional Home Inspection, LLC provides complete home inspection services for home buyers and sellers. The goal of Professional Home Inspection, LLC is to identify a home's assets as well as items of concern so that the owner or potential buyer can make a fully informed decision.

The client will receive a complete and comprehensive report on the condition of the home with photographs. The inspection and report generally exceeds the Tennessee Standards of Practice for Home Inspectors.

Don't settle for less than a Professional Engineer to perform your home inspection.
Tennessee Areas Served by Professional Home Inspection, LLC
Education & Credentials
Mr Schutt has a Bachelors degree in Electrical Engineering from Auburn University and a Masters in Electrical Engineering from Ga. Tech. He has Tn. Home Inspection License #799. He is fully licensed and insured.