Owen and Associates LLC Home Inspection and Consulting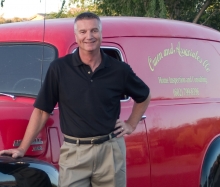 Owen and Associates LLC Home Inspection and Consulting
Kristine Owen
p.o.
Gilbert, AZ 85234

Phone: 602-799-8396
Email: Click Here

Description of Services
Owen & Associates, LLC provides real estate clients with the most thorough, highest quality home inspections available in the East Valley and Phoenix Metro area. Dedicated to being an integral part of the real estate team, Owen & Associates offers a superior level of personalized, detail-oriented service that sets us apart from others in the field.

Certified, licensed, bonded inspector Craig Owen is intimately familiar with all areas of home construction. He stays current in today's dynamic real estate industry with ongoing continued education. Craig's friendly manner, knowledge, experience, and genuine interest in the client's safety and satisfaction ensure client piece-of-mind, while our comprehensive inspections – which exceed the NACHI standards – help pave the way for fair, smooth transactions.

We pride ourselves on providing accurate, detailed inspection reports in a timely manner. Extensive digital photography and use of state-of-the-art equipment such as moisture meters, gas leak detectors, and infrared thermometers are part of every inspection. Afterward, we go over the findings and answer questions in a walk-through with the client.

Our computerized system generates an informative, user-friendly 20 to 40 page report, which is uploaded to our website and available to the homeowner via personal login within 24 hours, usually on the night of the inspection. A copy of the report is emailed to the realtor, and we finish with a follow-up telephone call.

We distinguish ourselves by taking our time and only inspecting 2 homes a day, max, where others may try to squeeze in up to 3 top 4 homes a day. We feel it is easier to miss potential problems if we rush an inspection. We pride ourselves in thorough, detailed inspections with a personal wrap up of our findings. We exceed the normal standards. Where possible, we actually walk the roof to investigate, not just look at the roof from standing on a ladder. Where possible, we actually get inside the attic to investigate, not just look into the attic from standing on a ladder in the hatch opening. We test every single outlet, not just a representative number which is the minimum requirements for home inspectors. We also average 3 times as many pictures in our home inspection reports over the standard reports. When you use Owen & Associates Home Inspection and Consulting, you can be assured that you are getting your money's worth!


At Owen & Associates, we love our work and give it our all. We're Better Business Bureau accredited, a member of both NACHI and SEVRAR, and we take VISA®, MasterCard® and American Express®. We want to be part of your team. You can reach us by phone, text or email.

Arizona Areas Served by Owen and Associates LLC Home Inspection and Consulting
Services & Areas of Expertise
Residential Home Inspections
Pre-Listing Inspections
New Construction inspections
Home Maintenance Inspections
Condo and Town Homes
Corporate Relocations
Education & Credentials
Members of:
The National Association of Certified Home Inspectors (NACHI)
Southwest Board of Realtors
Better Business Bureau

Arizona State Certified
Licensed and Bonded
Visa/MasterCard Accepted