affordable Home & Building Inspections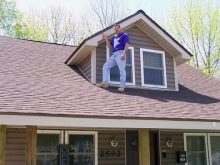 affordable Home & Building Inspections
John LoMonaco
102 Mink Lane
Hawley, PA 18426

Phone: 570-470-9410
Email: Click Here

Description of Services
A home inspection by Affordable Home & Building Inspections is an independent, unbiased review and report on a home's systems, components and their condition. Consumers and real estate professionals should expect no less than full professionalism, education, competence, credentials, knowledge, and courtesy.

We Deliver Peace of Mind
The home buying and selling process is very stressful. We will provide you with a thorough and professional home inspection to make sure that you are well-informed about the home you are listing or purchasing.

Pennsylvania Areas Served by affordable Home & Building Inspections
Services & Areas of Expertise
Home Inspections, radon, mold, septic systems, water, termite, Air clearance testing


Education & Credentials
Degree - Applied Science in Electronic Engineering

Owner/Operator- Architectural Design & Construction Company 12 years specializing in custom work (exterior)

The National Association of Certified Home Inspectors (InterNACHI) #03080209


The National Association of Home Inspectors (NAHI) CRI #19641

Radon- State Certified #2255

NRSB - National Radon Safety Board #3SS0065

Environmental Solutions Association (ESA) #0888

PCCA - PA Construction Code Academy course in Residential Plumbing & Mechanical Inspection

Member of Hawley-Lake Wallenpaupack Chamber of Commerce

Member of Pike/Wayne MLS

Pennsylvania Septage Management (PSMA) Certification #747

National Pest Management Association NPMA National Pest Management Association #241955

ProLab - Mold certification course

PA Compliant