HomeRite Real Estate Inspections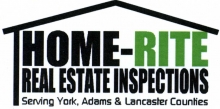 HomeRite Real Estate Inspections
Richard Thacker
4148 Deerhil Drive
New Freedom, PA 17406

Phone: 717-751-6964
Email: Click Here
Website:
Description of Services
HomeRite Real Estate Inspections has performed over 10,000 inspections since 1998 in Baltimore County, Harford County & Carroll County Maryland along with York County, Lancaster County and Adams County Pennsylvania.

What is a Home Inspection: Depending on the type of financing you choose, there should be either 2 or 3 separate inspections on the home you want to purchase. The first should be your own basic home inspection; the second should be a professional whole house inspection by a certified professional home inspector. Should you select a government loan (FHA or VA); the third inspection should come at the time of the appraisal, which to some degree amounts to a "mini-inspection." Do not, however, rely on this appraisal as your only inspection of the property!

We cannot emphasize enough the value and necessity of an extensive home inspection. Many home purchasers, either in the desire to save the money that a good home inspection costs, or due to simple ignorance about what a home inspection is, have spent enormous sums of money repairing items that any good home inspector would have pointed out.

The home inspector's service to the purchaser is primarily one of education. The goal of the inspector is to provide the purchaser with a better understanding of the physical condition of the home in order that they can make a well-informed decision. It is also the inspector's role to keep his findings in perspective for the buyer.

A detailed home inspection usually takes two to three hours or longer, depending on the home's age, condition and square footage. We recommend that you be present at your home inspection so that you can ask your inspector any questions and to look at any areas needing maintenance or repair.

Any offer to purchase should be contingent upon or subject to a whole house inspection. Do not let anyone dissuade you from having the property thoroughly inspected by a professional home inspector

Consumers should be very careful when shopping for a home inspector. The industry on the whole is unregulated and many unqualified people offer home inspection services.

Pennsylvania Areas Served by HomeRite Real Estate Inspections
Services & Areas of Expertise
Whole House Inspection
Commercial Real Estate Inspections
Water Testing
Termite Inspections
Septic Inspections
Radon Testing
Mold Testing
Education & Credentials
National Association of Home Inspectors - Certified Real Estate Inspector, Maryland Licensed, Pennsylvania Law Compliant.