Real Vision Home Inspection Services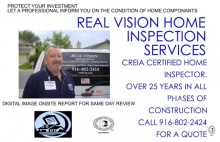 Real Vision Home Inspection Services
Tim Podbreger
8433 Sage Canyon Ct.
Sacramento, CA 95843

Phone: 9168022424
Email: Click Here

Description of Services
Over 20 years in the building Industry. I am in my 6th year as a California Real Estate Inspector. Full Building analysis with digital image inspection report. I work for the Buyers interests. As a CREIA inspector I am required to attend at least 30 Cec,s per year to keep my Certificate. I was elected Educational chairman for the years of 06/07.

Real Vision Inc. Is also certified in Mold/Air quality testing. I feel that Health and safety are the most important issue to report to my clients.
California Areas Served by Real Vision Home Inspection Services
Services & Areas of Expertise
Serving the Greater Sacramento Valley & Foothill Communities. I have achieved knowledge in all phases of construction Residential and Commercial. Continuing Education is on going to better serve my Clients.
Education & Credentials
I have been building since my teens. Including Boats, Houses, Commercial buildings and Historical restoration. I became CREIA certified Home Inspector in 2003
I hold certificates in Fireplace evaluation, Electrical, Plumbing, Gas Appliances, Tile roof instillation, Framing,Swimming pool evaluation, Drainage and many more.