Stone Creek Home Inspections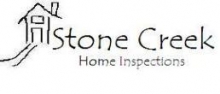 Stone Creek Home Inspections
Shane Stevens
1205 Stone Creek Dr
Arlington, TX 76063

Phone: 817-456-0501
Email: Click Here

Description of Services
Stone Creek Home Inspections is a professional home inspector serving DFW and North Texas. We are licensed and certified home inspector by the National Association of Certified Home Inspectors, the American Home Inspector Training - Certified Inspector, the Texas Real Estate Commission - Professional Real Estate Inspector, and the Texas Department of Insurance - Certified Residential Property Inspector.
Stone Creek Home Inspections performs complete and thorough home inspections for the home buyer, home seller, and home investor.
We are able to schedule within 24-48 hours, accept all credit cards, and deliver the report w/photos the same day.


Texas Areas Served by Stone Creek Home Inspections
Services & Areas of Expertise
Buyer Inspections
Seller Inspections
Investment Property Inspections
Home Warranty Inspections
Home Maintenance Inspections
New Home Inspections
Predrywall Construction Inspections
TDI VIP Inspections


Education & Credentials
Texas Real Estate Commission (TREC): Professional Real Estate Inspector, License #8324
Texas Department of Insurance (TDI): Certified Residential Property Inspector, ID# 4391005968
American Home Inspectors Training (AHIT): Certified Inspector
MetroTex Association of Realtors: Principal Affiliate Member (Suprakey)
International Association of Certified Home Inspectors (InterNACHI): Member