Buyers Home Inspection Service, Inc.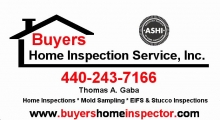 Buyers Home Inspection Service, Inc.
Thomas A. Gaba
7686 Ragall Parkway
Cleveland, OH 44130

Phone: 440-243-7166
Email: Click Here

Description of Services
When you are considering purchasing a home, you want to be sure you are making an investment in a property that will provide you with years of structural stability and economical maintenance costs. Contact the Buyers Home Inspections Service, Inc. at 440-243-7166 before you make the final decision on your purchase.

The Buyers Home Inspection Service provides a fully qualified professional analysis of the property you are considering for purchase. The inspectors there offer a confidential written report on the condition of the property at the time of the inspection, which is valuable to You, the consumer. It is wise to protect the single largest investment of your lifetime by contacting the Buyers Home Inspecting Service. They will provide a complete visual inspection according to ASHI® Standards of Practice and Code of Ethics of all accessible areas including electrical, heating and cooling, plumbing, roofing and all structural interior and exterior areas, They also take pride in working with First Time Buyers, Foreclosure Inspections and are certified for E.I.F.S and Stucco inspections.
Ohio Areas Served by Buyers Home Inspection Service, Inc.
Services & Areas of Expertise
Home Inspection, E.I.F.S & Stucco Inspections,
Education & Credentials
Certified Member American Society of Home Inspectors. ASHI