HomeSure Inspectors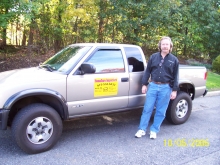 HomeSure Inspectors
Rick Koehler
104 Port Drive
Milford, PA 18328

Phone: 570-677-7610
Email: Click Here

Description of Services
A home is likely your single most expensive investment. There are no guarantees, but there are reasons that make you more confident about the value and condition of a home. HomeSure is a full service inspection company, we provided: Complete Home Inspections, Radon Testing, Wood destroying Insect inspections, Septic, Mold, Lead, and Asbestos inspections, Water Analysis, and Air Quality testing. Other servcies provided by referrals. HomeSure Inspectors are fully licensed. Make an appointment with a knowledgeable and trained inspector through HomeSure Inspectors. Please call for complete area coverage.
Pennsylvania Areas Served by HomeSure Inspectors
Services & Areas of Expertise
Home Inspections, Radon, Mold, Air, Lead, Asbestos,& Water Testing,& Septic inspections
Education & Credentials
New Jersey Licensed, Pennsylvania Certified. Licensed in: Radon Testing, & Wood Destroying Inspect inspections. Certified Septic inspector, Mold, Lead, Air & Water testing. Complete servcies provided.