WISPECT LLC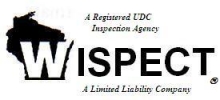 WISPECT LLC
Randall Berger
3802 W Deer Path Lane
Loretta, WI 54896

Phone: 715-749-6359
Email: Click Here

Description of Services
WISPECT, LLC is a full-service property inspection agency serving Wisconsin, Eastern Minnesota, and Michigan's Upper Peninsula. We specialize in the inspection of new and existing residential and commercial properties. We offer HMS Home Warranty Home Inspections which can give our Home Inspection clientele, as well as our Uniform Dwelling Code clientele, the added assurance that they won't have to bear any unexpected expense if a major system in their new home fails.
WISPECT is a Registered Uniform Dwelling Code Inspection Agency assisting municipalities in Ashland, Bayfield and Sawyer Counties enforce Wisconsin's Uniform Dwelling Code to ensure the one- and two-family dwellings built in our jurisdiction are being constructed in a safe and healthy manner.
We also offer home sellers Pre-Owned Home Certification Inspections, which can assist them with selling their homes and assures the buyer the home has been certified by a Wisconsin Certified Building Inspector employed by WISPECT.
When you find yourself in need of a residential or commercial building inspection, the Professional Inspectors with WISPECT are available Monday through Friday from 8 A.M. to 4 P.M. to answer your questions, give fee quotes, and walk you through the inspection and scheduling process.
Wisconsin Areas Served by WISPECT LLC
Services & Areas of Expertise
Residential Construction
Home Inspections
Commercial Bldg. Inspections
UDC Inspections
Education & Credentials
UDC-Construction Inspectors
UDC-Electrical Inspectors
UDC-HVAC Inspectors
UDC-Plumbing Inspectors
Certified Home Inspectors
Commercial Building Inspectors