Professional Home Inspection Services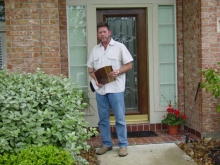 Professional Home Inspection Services
Brad Leland
3219 Silver Springs Dr.
Houston, TX 77571

Phone: 281-794-9102
Email: Click Here

Description of Services
We provide reliable, informative and knowledgeable home inspections in the greater Houston area. We will walk through the home with you, giving you a hands on verbal explanation of the home and answer any questions you may have.

We inspect the home like we were buying it for ourselves.

For most of us, the home purchase is our greatest single investment. The cost of a professional inspection is relatively minor in contrast to the size of the financial commitment and the risks associated with real estate purchases. The decision to purchase a home is usually clouded by emotion and the stress of wanting to get settled. Frequently, home buyers are not aware of needed repairs that will limit the property's value and future marketability. These repairs can costs thousands of dollars.

That is the reason that a home inspection clause should be in every offer to purchase real estate. The home inspection will provide the knowledge you need to negotiate needed repairs and reductions in sales prices. In addition, you may find the property unacceptable after receiving the inspection report and consequently, you may avoid making the purchase.

This warning applies to new homes as well as older homes. Don't rely on county building inspectors to find all the code violations in your new home. County inspectors are required to make hundreds of inspections per week and it is impossible, with that work load, to thoroughly and completely inspect each building. New or old, every offer to purchase real estate should contain the inspection clauses to allow you to properly and objectively evaluate the real estate purchase.

I use inspection criteria that meets and exceeds the Texas Real Estate Commission standards of practice.


Texas Areas Served by Professional Home Inspection Services
Services & Areas of Expertise
Existing and New Home Inspections, Warranty Inspections, Construction Phase Inspections
Education & Credentials
Texas Real Estate Commission Professional Real Estate Inspector License #5229