Valley Home Inspection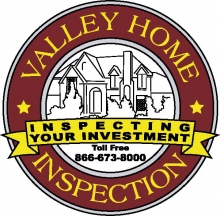 Valley Home Inspection
Dan Kopp
po box 154
Boise, ID 83706

Phone: 208-941-0243
Email: Click Here
Website:
Description of Services
I'm Dan Kopp, Construction Consultant, Certified Professional Real Estate Home Inspector and owner of Valley Home Inspection. I know you have many Home Inspectors in the Boise area to choose from and I appreciate you looking into our services.
What Makes Us Different?
*200% Money Back Guarantee
*ASHI Certified
*Professionally Trained
*Inspecting since 2001
*Over 1900 Inspections Performed
*Online Scheduling
*Narrative Style Full Report that Includes Pictures
*Separate Summary Report that Includes Pictures
*Same Day Report Delivery Via Email
*Former Licensed CA Contractor
*19 Years Construction Experience
*Insured
Why should you choose Valley Home Inspection?
Valley Home Inspection provides a 200% guarantee on every inspection we perform. If you are not completely satisfied and believe our inspection service is the absolute best, we not only will refund your full inspection fee but also pay another ASHI certified inspector of your choice to re-inspect the property.

We're independent.
I work for you. I'll give you the straight facts about the condition of the home you are about to purchase.

We're thorough and detailed.
I usually do only 2 inspections per day (in the summer, the long Boise days sometimes allow me to do 3). This allows me the time I need to do a thorough inspection of your home and explain my findings to you. This also means we're a little more expensive than some of our competitors, but don't let price be the only consideration when choosing an inspector. A cheap inspection may be the most expensive thing you'll ever buy. Cheap inspectors are often uninsured, lack experience, provide less service and don't have the specialized equipment necessary to perform a thorough home inspection. A cheap inspection may end up costing you thousands down the road because of missed or unreported defects.

We're experienced.
I have been in the construction industry for 19 years and have personally inspected over 1900 homes. I am also a former licensed general contractor from Sacramento, CA (#781522), I have built and remodeled many houses. This background not only makes me a better Home Inspector but enables me to offer you the valuable 'fix-it yourself' advice you may need as a new home owner.

We're Qualified.
Did you know that in the great state of Idaho, there are no regulations or licensing requirements for home inspectors? That's right; anyone with a flashlight can call themselves a home inspector. This is why it is so important to only hire an ASHI certified inspector. In order to become ASHI certified, I had to prove myself by successfully passing the National Home Inspectors Technical and Ethics Exams, I was required to send ASHI a random sampling of my reports to insure that they met their strict standards and I had to prove that I had performed more than 250 inspections.
To maintain my ASHI certification, I am required to attend classes annually to stay on top of the constantly changing construction industry. Essentially, ASHI has pre qualified me for you, saving you time and making it easier for you to choose the right inspector. Please visit ashi-dot-org for more information.

We write better reports.
My reports are computer-generated, easy to understand and well-organized, not to mention detailed and thorough. They are specific to your house and type of construction, not a generic preprinted checklist. I use color-coded narratives for easy navigation and include pictures and illustrations so you don't need a construction background to understand what I'm talking about.

We go there.
I cover the entire Treasure Valley from the Oregon border to Mountain Home, including Boise, Nampa, Caldwell, Eagle, Meridian, Star, Kuna, Middleton and even up to McCall, Donnelly and Cascade. However, travel charges are added for areas outside of a 35 mile radius of Meridian.

My business philosophy is simple.
I inspect your home as if my family was going to live in it. You'll learn things about the home you wouldn't find out any other way, such as maintenance tips, safety concerns and estimated life expectancies of vital components. I will take the time to explain the systems and components of the home, show you where your main disconnects are and answer any questions you may have. I'm also available for questions even after you move in, I want to be your 'building consultant for life'.

My Guarantee to You.
I don't like paying for services that I'm not happy with and I don't expect you to have to pay for my services if you're unhappy. As stated before, I'm so confident about the quality of the service I provide, that if you're not completely satisfied with my inspection I will refund your money and pay another ASHI certified inspector of your choice to re-inspect the property.
Boise is a great place to live. Don't take the chance of tarnishing your home buying experience by hiring the wrong home inspector.

Idaho Areas Served by Valley Home Inspection
Services & Areas of Expertise
New Construction, Classic Homes, Everything In Between.
Education & Credentials
I have been in the construction industry for 19 years and have personally inspected over 1900 homes. I am also a former licensed general contractor from Sacramento, CA (#781522), I have built and remodeled many houses. This background not only makes me a better Home Inspector but enables me to offer you the valuable 'fix-it yourself' advice you may need as a new home owner.
Education
* Technically Trained by Inspection Training Associates (ITA) in 2001 - Graduate Certified
* Field Trained by Senior Inspector Austin Chase
* Minimum of 20 hours of ASHI approved education annually
* Sierra College
* Mold Training
Professional Organizations
* Currently Certified by the American Society of Home Inspectors (#244451) 2004-present time
* Formerly, Certified by the California Real Estate Inspection Association 2002-2004
* Member of the Nampa Association of Realtors
Experience
* 7 years as a Professional Home Inspector
* Over 1900 home inspections performed
* 7 years as a California Licensed Contractor (#781522)
* 19 years of combined construction and home inspection experience