Prestige Home Inspection LLC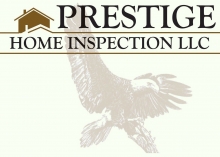 Prestige Home Inspection LLC
Danny Zyrowski
5036 Fish Lake RD
North Branch, MI 48461

Phone: 810-441-7666
Email: Click Here

Description of Services
Prestige home inspection offers a home inspection service to help inform the seller or buyer from unexpected surprises, unexpected surprises that may cost thousands in repairs or legal issues. My inspection service's are based on integrity and guaranteed satisfaction.

I will inspect the physical condition of the structure from top to bottom like the foundation, grade, mechanical system, plumbing, electrical, and roof structure. Identify items that should be repaired or replaced, I also make comments on the attic's insulation and ventilation. Evaluate the remaining useful life of the major systems such as the roof system and mechanical equipment. Inspections include, evidence of past/present water problems, pest problems, unusual foundation activity.

A professional electronic reports with detailed photo's of your new home or printed version.
Recommendations or suggestions are offered on how to make your home more energy efficient and cost saving idea's.
Gas leak detection and carbon monoxide will be conducted on all home inspections.

Also offered, Well/Septic for FHA & HUD (Rural Development), quality water testing, Mold inspection offered, Quality air test, Radon test, Pest problems. My inspection service is based on integrity and complete satisfaction. Competitive prices on all service's offered.

Michigan Areas Served by Prestige Home Inspection LLC
Services & Areas of Expertise
Prestige area of service, Tuscola county, Lapeer County, Sanilac county, Huron County, Genesse county, Oakland County, Macomb County, St Clair County, Saginaw County, Bay County, serving south/east Michigan.
Education & Credentials
Certified by, International Association Of Certified Home Inspection (NACHI). Mold certification is through, Environmental Solution Association (ESA). 25 years experience in the building industry. Five years working for septic contractor installing and repairing septic systems.