Housecall Property Inspections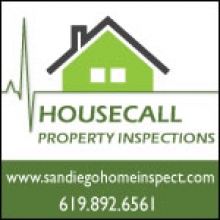 Housecall Property Inspections
Darin Redding
6826 Millbrook St.
San Diego, CA 92120

Phone: 619-663-8740
Email: Click Here

Description of Services
Complete Home Inspections serving property owners and real estate professionals in San Diego by InterNACHI Certified Professional Inspectors.

If your buying or selling, or just wish to get an unbiased evaluation of the condition of your San Diego home, you've come to the right place. In this day and age it has become a standard practice to get a home inspection before purchasing a property. A home inspection affords piece of mind that your investment in a new home is a good one. And you can be assured we do not take shortcuts. Our Certified Professional Inspectors (CPI) perform the most comprehensive inspection in the business with over 400 items reviewed. Our CPI inspectors spend approximately 3 hours on an average sized home. We stand behind our work and we do not compromise. We want you to be happy with your inspection and hopefully refer your family and friends to us when it's time for their inspection.
California Areas Served by Housecall Property Inspections
Services & Areas of Expertise
Housecall Property Inspections is a full service San Diego home inspection company offering a wide range of home inspection services. Our property inspection services include:

* Residential home inspection
* Residential commercial inspections (Apartment/rental)
* FHA HUD Foundation Inspection
* Warranty Inspection
* Rental Inspection
* New Home Inspection
* Moisture testing, including concrete slabs
* Lead Paint Testing (Ancillary service)
* Mold Testing (Ancillary service)
* Asbestos Testing (Ancillary service)
* Water Quality Testing (Ancillary Service)
Education & Credentials
18+ years construction experience, InterNACHI member. Certified mold and radon inspector. Member U.S. Chamber of Commerce.