1st Choice Inspection Services, LLC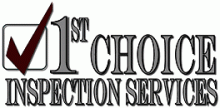 1st Choice Inspection Services, LLC
Gregory Allen
100 Cedar Twig Ct
Raleigh, NC 27502

Phone: 919-961-5395
Email: Click Here
Website:
Description of Services
Apex, NC - 1st Choice Inspection Services, LLC is locally owned and operated 1st Choice Inspection Services, LLC, delivers trusted professional home inspections in the Raleigh, Durham and Chapel Hill area.
If you are searching for a home inspector, I understand that you have many choices. That is why I would like to explain to you why I am the best choice for your home inspector. I realize that this home, or building, you are purchasing is a huge investment, and it is my job to do my best to protect you from major defects. My goal is to be prepared when I arrive at the home and to be proud to represent you. I will record all my findings for you, help you understand the implications of the findings, and direct you as necessary to a corrective resolution. My report is computer generated with digital pictures, and arrows pointing to any problems. The report is clear and easy to understand. I will make every effort to discover and report any defects or areas of concern to you. After you review your report, you will feel confident that I was thorough and had your best interest in mind. For personalized service, call me now to schedule an appointment.
North Carolina Areas Served by 1st Choice Inspection Services, LLC
Services & Areas of Expertise
Home Inspection Services
Certified Radon Testing
Radon Mitigation Services
Education & Credentials
http://HomeInspectorGuy.com
NC Licensed Home Inspector #2239
Radon Measurement Provider NEHA NRPP ID 104106RT
Radon Mitigation Provider NEHA NRPP ID 103845RMT