Peoples Choice Home Inspection Service, Inc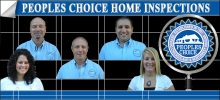 Peoples Choice Home Inspection Service, Inc
Scott Moran
9231 Wicker Ave. Suite 1
Hammond, IN 46375

Phone: 219-365-9005
Email: Click Here

Description of Services
Peoples Choice Home Inspection Co. was established in 1991. Scott Moran is founder and owner. We are a full service Inspection co. Providing pest, mold, indoor air quality, radon, pool & spa inspections. We also provide counsulting services for Home building, additions and major repairs. We have a back ground in architectural design,custom home building, remodeling, 25 years of experience and over 25,000 clients. Our inspectors are properly licensed and insured. Our service will best serve you when buying, selling, building a home or as a personal general on a project. We look forward to working with you and making your project easy and pleasent.
Indiana Areas Served by Peoples Choice Home Inspection Service, Inc
Services & Areas of Expertise
Complete Inspections, Radon, Pest, Mold, Indoor Air Quality, Pool, Spa & Much More!
Education & Credentials
Lic,state IN HI00500362
Lic,state IN HI00600206
Lic,state IN HI00500218
LIC,STATE IL 4500001790
RT 102622, 103499
OISC,F220437,F41681,F225636