Iowa State Home Inspections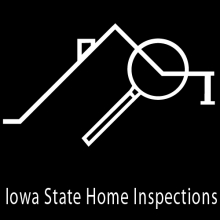 Iowa State Home Inspections
David Reynolds
5072 EP True Parkway
Alleman, IA 50265

Phone: 515-783-8241
Email: Click Here

Description of Services
Iowa State Home Inspections offers home inspection services in the greater Des Moines area and all of central Iowa including Iowa City and Cedar Rapids.

Iowa State Home Inspections has been in the home inspection business for over 5 years and has performed close to 1,000 home inspections.

Dave holds a national certification issued by the National Association of Certified Home Inspectors and attended the home inspection school offered by the Professional Career Development Institute in Atlanta.
Iowa Areas Served by Iowa State Home Inspections
Services & Areas of Expertise
General Home Inspection, pest and termite inspection,
Water, water flow, septic, Radon testing, mold testing.