Home Inspection Springfield.com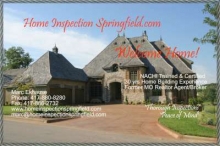 Home Inspection Springfield.com
Marc Ekhause
4651 S. Mary Ann
Springfield, MO 65810

Phone: 417-880-8280
Email: Click Here

Description of Services
Marc Ekhause - 'NACHI' Certified Home Inspector

If you're looking for a thorough, professional property inspection, then you've come to the right place!

Home Inspection Springfield provides nationally certified, affordable property inspection to buyers and sellers of homes in Greene County, Christian County, Taney County and surrounding areas in Southwest Missouri.

Contact me and I will make the process easy. Let me schedule your home inspection, professionally evaluate the property and provide you with the information you need to ensure the peace of mind you deserve!

I am a resident of
Greene Co. working here in the business of home construction for the last 28 years. I am a former Missouri Realtor/Broker.
"Allow me to inspect your future home purchase". "I will carefully inspect your property as if it were my own". For complete details, please visit my website.







Missouri Areas Served by Home Inspection Springfield.com