Jacob Mermin Inspections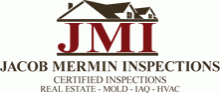 Jacob Mermin Inspections
Jacob Mermin
3015 sw Pine Island Rd. suite 113216 Cape Coral
Cape Coral, FL 33991

Phone: 239-243-7322
Email: Click Here

Description of Services
Jacob Mermin Inspections. InterNachi certified home inspector. Micro certified mold inspector. Aire certified iaq specialist. Epa certified Hvac technician. Jacob Mermin Inspections is the only inspector in Sw.Florida who can do a realty inspection,mold inspection, IAQ inspection, and Hvac inspection him self. He can also take samples, including air-o-cell, swab, tape lifts, and bulk samples. Jacob Mermin is also able to do ERMI/DNA Mold testing through Clean Air Labs. This lab is one of only 15 in the world that is certified to do this EPA developed test.Sinse Jacob Mermin is an EPA certified Hvac technician he is able to install all types of indoor air quality products such as Honeywell, Carrier, UltraVation, EcoQuest, Dust Fighter. He can inspect your ductwork with a special camera and can arrange duct cleaning using Abatement Tecnologies Equipment. Jacob Mermin Inspections is the only true one stop company. You don't need to go to 2,3,or even 4 companies to get your needs taken care of .This save you or your clients time and money.
Services & Areas of Expertise
Home inspections, Mold inspections,and testing. Hvac inspections. Air conditioning service and sales. Indoor air quality inspections,service and produts. Duct work inspections,design,and cleaning.
Education & Credentials
InterNachi certified home inspector. Graguate of Penn-Foster Career Schools. Micro Certified Mold Inspector, Micro Mold Course. International Association of Certified Indoor Air Consultants. Indoor Air Quality Association. Air Quality Usa. Enviromental Protection Agency Certified Air Conditioning Technician. American Institute of Respitory Educators, Air Quality Specialist.