Elite Inspections, LLC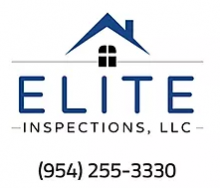 Elite Inspections, LLC
Mark Beckerman
4464 NW 113 Terrace
Pompano Beach, FL 33065

Phone: 954-255-3330
Email: Click Here

Description of Services
Elite Inspections LLC provides peace of mind for your single largest purchase!
Elite Inspections can provide a thorough and accurate home inspection for home buyers and sellers. We have been inspecting homes and assisting in finding often hard to detect issues for over 10 years.
Fully licensed and insured, our reputation for experience, integrity and honesty makes us the number one recommended choice among real estate professionals.
Call Elite Inspections LLC today to schedule your home inspection.
Each inspection report includes the following:
Structure
Roof
Exterior
Interior
Air Conditioning Systems
Plumbing
Electrical
Appliances
Floors, Walls and Ceilings
Inspections are visual, non-invasive inspections.
Whether you are the home buyer or the home seller, we will take great pains to ensure that our inspection is in accordance with the National Association of Certified Home Inspectors (NACHI) Standards of Practice and Code of Ethics.



Florida Areas Served by Elite Inspections, LLC
Services & Areas of Expertise
Broward County
Palm Beach County
Education & Credentials
AHIT Certified Home Inspector
NACHI Associate Member
30 Years in Construction Business
Licensed/ Insured
Member of South Florida Networking Coalition
Member of Alignable