Allsafe Home Inspection Service, Inc.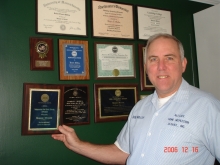 Allsafe Home Inspection Service, Inc.
Bob Mulloy
1-2 N. Water Street
Abington, MA 02333

Phone: 508-378-7170
Email: Click Here
Website:
Description of Services
Bob Mulloy has 26 years of experience as a home inspector and member of the American society of Home Inspectors. He provides a comprehensive narrative report with illustrations and color photos. Reports are available by email. Visit Bob's web site for details about Bob's awards, credentials, sample report and contact information.
Bob's objectives during a home inspection are to teach you about the systems and components in the home, how things work, how to maintain the home as well as disclosing all readily accessible problems.
Bob teaches home inspection at area colleges for the continuing education needs of home inspectors and is a national speaker.
Massachusetts Areas Served by Allsafe Home Inspection Service, Inc.
Services & Areas of Expertise
Boston, South of Boston
Education & Credentials
MA license no. 32
ASHI #561
MA Board approved education provider for home inspectors.
Chairman, ASHI-NE Chapter Education Committee