D-S Quality Home Inspection, LLC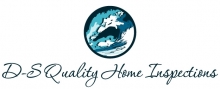 D-S Quality Home Inspection, LLC
Stephen Jones
37 Shady Brooke Lane
Swedesboro, NJ 08085

Phone: 856-467-5867
Email: Click Here

Description of Services
I am a professional,licensed, full time home inspector.

I have lived and worked in Salem and Gloucester Counties
most of my life, with the Church, Scouts, Little League,
and rest of helping raise a family.

My Mission....
I am committed to deliver a prompt, thorough,professional,
highest quality possible Home Inspection, by attention to detail, diligent observation and open communication with clients, continuing/perpetual education to assure professional excellence, and to conduct my business with integrety.


Services & Areas of Expertise
I offer professional home inspections in the following areas:

Primarily Southern New Jersey, Gloucester, Salem, Cumberland, and Cape May County,
However, I am licensed to conduct Home Inspections in all of New Jersey.
Inspections are also provided for Delaware and Pennsylvania.
Please contact us to order your home inspection today!



Education & Credentials
I am licensed by: The State of New Jersey/Office of the Attorney General/Division of Consumer Affairs/Home Inspection Advisory Committee

My license number is: 24GI00082600


I am a member in good standing of the American Society of Home Inspectors (ASHI) and South Jersey (SJASHI) and Tri-State Chapters of ASHI


Inspections are conducted in accordance with the ASHI Standards of Practice and Code of Ethics and the New Jersey Administrative Code 13:40-15.16.

(A copy of the NJAC detailing requirements for Home Inspectors will be included in your Inspection Report.)

I am an Affiliate Member of the Gloucester / Salem County Board of Realtors

I am a Member of the U. S. Chamber of Commerce.