Rockway Home Inspection Inc.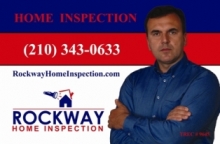 Rockway Home Inspection Inc.
Zibby Swieca
515 Sand Ash TRL
San Antonio, TX 78256

Phone: 210-343-0633
Email: Click Here

Description of Services
With the variety of computer technology available today, a good home inspection firm will offer comprehensive computer generated reports complete with photos, which help explain the results of a home inspection. This report should be available to the client shortly after the home inspection .The report should be able to be emailed to the client. Rockway Home Inspection Inc. utilizes the latest in technology including digital photography, the latest in home inspection software and portable/mobile office technology. We are committed to providing clients the benefits of timely and accurate information available through the use of the latest in technology.

The goal of the inspection is to enable you to learn about what you're planning on buying. We will go through the yard, driveway, the exterior and interior of the home together, and we will each see all of the good points and bad points of the home.

We are trained to perform an unbiased, visual home or commercial property inspection. The inspectors assess the home or commercial building from roof to foundation to identify different issues and describe the current conditions on the property. Your inspector will walk you step-by-step through significant findings. Following the inspection, you will receive an easy-to-read, thorough report for your records. This can assist you in purchase negotiations, warranty repairs or when making future maintenance decisions.

Before during and after the inspection, you are my client - and I only work for you. I do not work for any of the real estate agents, the sellers or the attorneys. I am you're "go-to-person" during the entire process. My duty and entire allegiance is to you as my client.

During the inspection, I will be taking many digital photos (usually between 10 and 30). These photos are included in your report, along with a comment for each photo explaining in a plain and easy to understand format what the issue is.

After you receive the report you can contact me at any time and I will be happy to answer any questions you may have. If you would like to review the report together, I will be happy to do that, and even revisit the property if you would like to.

Texas Areas Served by Rockway Home Inspection Inc.
Services & Areas of Expertise
We are located in the heart of San Antonio, Texas. We offer a wide range of inspection services throughout San Antonio and all surrounding areas, including commercial inspections, post inspections, consulting, new home one-year warranty inspections and new home final inspections.
If you want the best home inspectors serving San Antonio, Austin, New Braunfels, Boerne, Bulverde, Cibolo, Converse, Helotes, San Marcos, Seguin, Schertz, Texas
Education & Credentials
TREC Lic #9645. National Association of Certified Home Inspectors #NACHI07090609