The Building Inspector of Cape Cod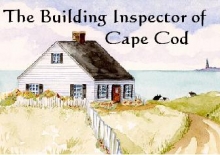 The Building Inspector of Cape Cod
Brian Tilton
PO Box 307
North Eastham, MA 02642

Phone: 508-255-9343
Email: Click Here

Description of Services
Providing Home inspections, Title 5 Septic inspections and contract maintenance of alternative septic systems for Real estate transfer, purchase or alterations of residential or commercial properties. We serve Cape Cod, the Islands and parts of South Shore. Our inspectors have over 25 years experience in the construction industry with specialized training in many other areas. Our objective is to give you, our client an un biased opinion of the condition of the property at the time of the inspection so you can make an informed decision. we also offer top quality home inspection reports with state of the art technology which includes photos and we also include many maintenance tips as well so your report may also be used like a home owners guide. Our motto is: Quality inspections from qualified professionals.
Massachusetts Areas Served by The Building Inspector of Cape Cod
Services & Areas of Expertise
Residential and commercial home inspections for real estate transfer or purchase, Title 5 System inspections for real estate transfer or alterations, Alternative system contract maintenance and inspections for State required maintenance of residential or commercial on site wastewater treatment plants.
Education & Credentials
Massachusetts licenses;
Home Inspector #590,
Title 5 System Insp.#SI4392,
Wastewater Treatment Operator Grade 5-C #13895,
Constuction Supervisor #CS90642