AHI Home & Building Inspection Services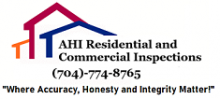 AHI Home & Building Inspection Services
David Johnson
18801-102 Nautical Dr
Cornelius, NC 28031

Phone: 704-778-1353
Email: Click Here

Description of Services
Whether you are buying or selling your home or property, we
can provide you with the professional inspection services to
protect your interests. Call us to discuss your needs.

Our home inspections will give you a clear, unbiased evaluation of a home's condition
quickly and easily. Our professional, certified and fully insured inspectors will answer
any questions you may have, and help you build a foundation of knowledge about your
home and its systems.

Our inspections are thorough and are performed according to the highest possible
standards. We utilize the latest technical equipment and computers. Our reports are
carefully compiled into easy to read computerized reports utilizing digital color photos,
they are delivered via the Internet with a link and a secure password. That only you
and those that you authorize can access.

OUR FOCUS:
Is the home safe?
Is everything operational at this time?
Are there deficiencies or signs of potential failure?
Are the components installed in a professional manner?



Services & Areas of Expertise
ADDITIONAL SERVICES:

AIR QUALITY TESTING & MOLD SAMPLING
WATER ANALYSIS/TESTING
RADON GAS MEASUREMENT AND ANALYSIS
* Termite scheduling (Provided by a licensed company)

Education & Credentials
QUALIFICATIONS:

LICENSED North Carolina HOME INSPECTOR #2565
NEHA Certified Radon Provider NRPP ID# 104477RT
Bachelor of Science in Industrial Technology with a concentration in construction
from Appalachian State University. See today's coarse structure very similar to when
I graduated.
Extensive continuing education credits in construction, building trades, building
science, indoor air quality, etc.