French Creek Inspections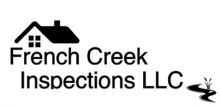 French Creek Inspections
David Dye
217 Dalmeny Dr
Cary, NC 27513

Phone: 919-271-3340
Email: Click Here

Description of Services
From attic to crawlspace, we complete a visual evaluation of the systems and components of a home. As a result you receive a detailed report that provides valuable information required to make an informed purchase decision. Licensed home inspectors in North Carolina are regulated by the NC Home Inspector Licensing Board and are required to follow the NCHILB Standards of Practice. We're tightly regulated to ensure a certain level of professionalism.

In addition to Home Inspections, French Creek provides "one stop shopping" for Radon and Termite.
Radon is a naturally occurring, colorless and odorless, gas that seeps out of the ground. The EPA considers accumulation of this gas in a home a significant health concern. Radon tests are non-invasive and require only 48 hours to complete. French Creek is qualified to perform Radon testing but, depending on demand, will sometimes subcontract with another qualified provider.

Termites and other pests can be a significant threat to your home and in North Carolina, termite inspections fall under a different license. To minimize disruption, French Creek will coordinate a termite inspection with a certified specialist and provide your report. For more information, check out A Homebuyer's Guide for the
Wood-Destroying Insect Report, published by the NC Department of Agriculture.


North Carolina Areas Served by French Creek Inspections
Services & Areas of Expertise
Pre-sale Inspections
Radon
Termite
Education & Credentials
BS Engineering, NC State University
MBA, Duke University
Licensed NC Home Inspector #3752
Certified Radon Inspection