Pro-Tech Inspections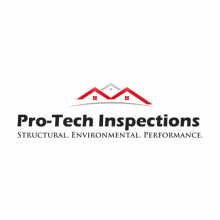 Pro-Tech Inspections
Dave Adams
PO Box 593
Travelers Rest, SC 29690

Phone: 8643863810
Email: Click Here

Description of Services
Offering a full range of professional services including inspections, radon, CL-100, mold, water, and more! We are the premiere and fastest growing Inspection firm in the Upstate. Trusted by hundreds of agents, buyers, and sellers, we focus on truth over harmony using a servant leadership model. Our staff focus on providing informative and educational inspections. If this is the house you want, we partner with you and your Realtor to figure out how to get the deal done for you. Buying a house is hard enough, don't let your Inspector kill your deal due to the lack of experience and education. Ask us for references and check out our website, especially our "About Us" page where you can learn more about our Core Values.
South Carolina Areas Served by Pro-Tech Inspections
Services & Areas of Expertise
Ask your inspector if he has 20+ years of experience and an Engineering Degree. If not, he's just looking around!
Education & Credentials
Professional Engineer, Certified and Licensed Home Inspector, Bonded, Insured, and Experienced.