A-Pro Sw Ohio Home Inspection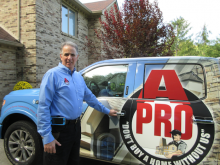 A-Pro Sw Ohio Home Inspection
Tom Armstrong, CHI, PHI, MBA
1081-B State Route 28
Amelia, OH 45140

Phone: 513-909-2776
Email: Click Here
Website:
Description of Services
Meet Tom Armstrong, Certified Home Inspector
"One of the great things about being a Southwest Ohio home inspector is the wonderful people I get to meet and serve every day. Whether I'm performing a home inspection in Anderson, Loveland, Mason, Lebanon, Goshen, Batavia, Milford or one of many unique towns in Clermont County, Brown or Warren County, it's always a pleasure to help my neighbors make smart decisions when buying or selling a home.

"Being a Clermont County, Brown and Warren County home inspector is a job I love and take very seriously. A-Pro® Home Inspection service has performed hundreds of thousands of inspections since 1994. Call me for the area's most complete foundation-to-roof home inspection – always delivered with hometown service and the honesty, integrity, and professionalism you deserve."

Looking forward to meeting you,

Tom Armstrong, CHI, PHI, MBA
Services & Areas of Expertise
Home Inspections
Radon Inspections
Lead Paint Inspections
Mold Inspections
Certified Home Inspections
HUD Inspections
Pre-Purchase Consultation
Structural Inspections
FHA Inspections
New Home Construction Inspections
Carbon Monoxide Testing
Termite Inspections
Foundation Inspections
Chinese Drywall Inspections
Property Inspections
Phase Completion Inspections
203(k) Inspections
Commercial Building Inspections
Education & Credentials
CHI®, PHI®, ISHI®, ITI®, CPI® Certified

Veteran Owned Business (Six-Year Army Captain)

• A Board Certified Member with (HI® (Certified Home Inspectors), Reg. # A3657
• PHI® (Professional Home Inspector), Reg. # 892
• Ohio Dep of Agriculture, Commercial Pesticide Applicator Core and Category 12 (Wood Destroying Insects). #137880
• OHIO DEPARTMENT OF HEALTH, Bureau of Radiation Protection, Indoor Radon Program, Radon Tester Lic# RT1106
• Federal Aviation Administration, Remote Pilot License FTN C1077226


A-Pro Home Inspection Service serving all of Clermont County, Brown and Warren County including Anderson Township.