All Valley Home Inspections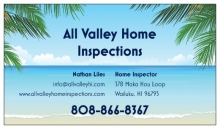 All Valley Home Inspections
Nathan Liles
378 Maka Hou loop
Wailuku, HI 96793

Phone: 8088668367
Email: Click Here

Description of Services
Home inspection services Maui county Hawaii. Serving all of Maui County, Lanai and Molokai. All Valley Home Inspections has been in business since 2001. Pre-purchase and pre-sale home inspections are the "bread and butter" of any home inspector service and are the most common type of inspections that are performed. So, whether you contact us for a pre-purchase or pre-sale inspection, our services are designed to give our clients critical information about the overall condition of the home they are buying or selling by performing a top-to-bottom review of the subject property's basic workings, systems performance, structural integrity, and workmanship. All aspects of the property's condition are detailed in our report which is generated in a timely manner after the conclusion of our inspection.

Our thorough inspection and reporting processes are performed in accordance with ASHI® Standards of Practice Requirements and Arizona home inspection requirements covering both the Structural & Mechanical (electrical, heating, air conditioning & plumbing) systems of the home. These areas represent the most costly systems to repair or replace within the home.

The average amount of time required for an inspection is approximately 2-3 hours. If you choose to be present during the inspection, our inspector will be happy to show you any defects that are uncovered during the appointment, and you will have the opportunity to ask any questions that you may have concerning the house.
Hawaii Areas Served by All Valley Home Inspections
Services & Areas of Expertise
Home inspector serving all of Maui County, Lanai and Molokai
Education & Credentials
AHIT certified home inspector, ASHI member