Houston Jacob Home Inspectin, LLC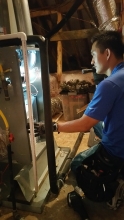 Houston Jacob Home Inspectin, LLC
Jacob Cho
9422 Borden Bluff Ln
Addicks, TX 77095

Phone: 281-748-0566
Email: Click Here
Website:
Description of Services
We are Houston Certified home inspector. Houston Jacob Home Inspection specializes in all forms of real estate inspections. Based in Houston, TX, we are licensed and are an InterNACHI Certified Professional Inspector. Our home inspections are guaranteed to save you on costs in a big way. You may be in real estate for a wide array of reasons, but access to relevant information will always prove critical. The accurate knowledge of the property in question will provide the power you need to make the right investment choices and enjoy peace of mind. We execute our home inspections with your real estate objectives in mind. We can enlighten you about the physical condition of your investment so that you can protect its value. Since most major problems with a residential property begin small, we can help you detect them before they can get out of hand. Our involvement ensures planned property maintenance, which is always a cost-effective way to preserve value. We have the technology to probe deep beneath the surface and reveal defects that are hard to find. Our thermal imaging technology can observe surfaces and detect cold air infiltration, water infiltration, excessive moisture, insulation deficiencies, electrical drops, and much more. It is vital to check the condition of a building's foundation when carrying out any thorough home inspection. Such an evaluation can reveal structural problems, and cracks. We can examine the slab foundation, floors, doors, basement, and crawl space for any signs of defects. Whether you are selling or buying a home, a mortgage lender, real estate agent, or home speculator, a property inspection will save you on costs and future disappointment. You can trust houston residential inspectors from Houston Jacob Home Inspection for fair and timely evaluations. Get in touch with us today to schedule an appointment!
Texas Areas Served by Houston Jacob Home Inspectin, LLC
Services & Areas of Expertise
Serving Greater Houston Texas, and the surrounding counties; Harris, Cypress, Montgomery, Fort Bend, Waller, Tomball, Katy, Bellaire, Richmond & Rosenberg.
Education & Credentials
Champion School of Real Estate, TREC# 21196, InterNACHI Professional Certified Home Inspector #14082210