A thru Z Inspections, LLC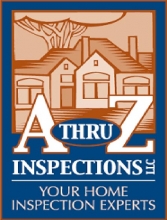 A thru Z Inspections, LLC
Richard Belt
82 North 800 East
American Fork, UT 84003

Phone: 801-592-2757
Email: Click Here

Description of Services
Your home inspection specialist serving Northern Utah, from Nephi to Ogden. We bring to you over 46 years experience in the construction and engineering trades. We leave no stone unturned. We guarantee a complete and thorough inspection.
We inspect every aspect of the home so that your not left in the dark before purchasing the home.
We also enjoy having you present, by the end of the inspection, so that we can take you on a walk-thru of any areas that are of concern.
We provide you with a comprehinsive report that is easy to read and understand. The report averages 30 to 40 pages, depending on the number of photos. This is not a hand written or check box type of report.
Check our website for a sample of the report.


Education & Credentials
Certification through the National Association of Certified Home Inspectors.