Aspire Inspection Services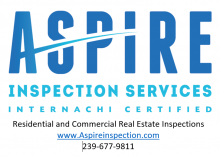 Aspire Inspection Services
Brian Whitehouse
1137 Nelson Road
Alva, FL 33993

Phone: 2396779811
Email: Click Here

Description of Services
Aspire Inspection Services is dedicated to providing superior customer service and fair, accurate and objective residential and commercial property inspections.All inspectors are not create equal Aspire Inspection Services goes above and beyond industry standards.There are several aspects and components of a home that inspectors are neither required to nor restricted from inspecting. (Examples: cosmetic or aesthetic concerns, appliance recalls, pool and spas, irrigation systems, seawall, well equipment, etc) Aspire Inspection Services inspects all of those as part of our standard inspection!
Florida Areas Served by Aspire Inspection Services
Services & Areas of Expertise
Commercial and Residential Inspections, 4-Point Inspections, Wind Mitigation Inspections, Termite (WDO) Inspections, Home Energy Audits, Standard Residential Inspections, Chinese Drywall Inspections, Pool & Spa Inspections, etc.
Education & Credentials
Florida Home Inspector (HI8997)
Bachelors Degree Business
Associates Degree Civil Engineering