Iowa Home Inspections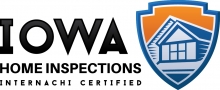 Iowa Home Inspections
Don Smart
5485 NE 17th St
Des Moines, IA 50313

Phone: 515-478-3053
Email: Click Here
Website:
Description of Services
A home is the biggest purchase most of us will ever make in life, so it's important to understand the condition of your investment. Let Iowa Home Inspections provide the thorough home inspection you need and a comprehensive home inspection report you can rely on to make a confident decision.

Our home inspectors have been trained by InterNACHI, the International Association of Certified Home Inspectors. We follow voluntarily follow their strict Standards of Practice that many other home inspectors don't, and we abide by a strict Code of Ethics, which puts our clients' interests first.

Additionally, we have several years of residential construction experience, which means that we can spot problems with materials, installation and workmanship that inspectors without our hands-on background and knowledge might miss. We put our customers first, and we think it's important that you understand how the home and all of its various systems work together.

Whether you're buying or building a new home, selling the home you're in, or just want to know the condition of your current home so that you can keep it in good condition for years to come, Iowa Home Inspections will help you protect your family and your investment.
Services & Areas of Expertise
Central Iowa
Education & Credentials
All of our inspectors are Certified Professional Inspectors through InterNACHI.