Harris Home Inspection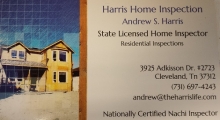 Harris Home Inspection
Andrew Harris
3925 Adkisson Dr. NW #2723
Cleveland, TN 37312

Phone: 7316974243
Email: Click Here

Description of Services
Your Cleveland, Tn and surrounding areas premier home inspection company. Harris Home Inspection - Inspecting Homes the Right Way! Andrew Harris is a licensed, insured and experienced home inspector for the Cleveland, Tn area. Don't let someone give you a subpar inspection. I am an engineer by trade and familiar with residential, commercial and industrial building codes. In addition, I am familiar with local building practices and standards. Allow me to inspect your future home, so that you don't have to pay the price of having a subpar home inspection.
Services & Areas of Expertise
Residential building codes, National electric Code, common building practices, local building standards.
Education & Credentials
InterNachi member, TN State Licensed and insured inspector, mechanical engineer, inspecting since 2008