delaware property inspection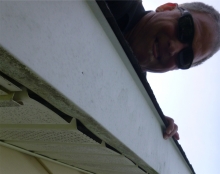 delaware property inspection
richard hiddemen
2721 tanager drive
Wilmington, DE 19808

Phone: 3023551748
Email: Click Here

Description of Services
Getting a property inspection is a good choice.
One item alone can cover the cost of the home inspection.
I have never seen a property that has no problems. Any property can be undermined by poor construction and deferred maintenance. Beyond the obvious defects, the bones of a property tell the story. Evaluating the property comes down to identifying and reporting the cause and effect of a significant defect that may be concealed or inaccessible.

Services:
Residential and Commercial Property Inspection
Radon Testing
Termite Inspection
Pre-listing Inspection
Repair Estimates
Renovation/Addition Estimates
Renovation/Addition Evaluation
Infestation Structural Inspection
Chimney/Flue Liner Inspection
Sewer Line Inspection
RESNET Certified
Thermal Imaging Inspections
Lead Paint Testing

Delaware Areas Served by delaware property inspection
Services & Areas of Expertise

6 Tips on Hiring a Home Inspector
Helpful Tips

It is easy to identify the obvious problems, the cracked window, the peeling paint, but what is really going on in the attic or under the porch? Finding the cause of a problem is just as important as finding the result.
We offer 6 tips on hiring a home inspector:
Obtain an inspection from someone that has an unbiased opinion. Be wary of inspectors from realtors preferred vendors list. It is illegal in some states for inspection firms to pay to be on these lists, but not in Delaware. Some inspectors pay a fee to be listed with realtors that will use the inspector that raises the least amount of issues.
Obtain your inspection from a knowledgeable source with roots in the construction trade. Some inspectors have insufficient background knowledge and experience. Ask them about their construction background.
Be expected to participate in the inspection process by the inspector. Attend the inspection to best understand the issues raised by the home inspector.
Expect that all accessible areas be examined. Expect your inspector to carry a ladder long enough to reach your roof. Every crawl space that is 18 inches or more tall should be entered.
If you desire to have the radon levels checked, keep in mind that in order to properly check the radon levels the testing and evaluation period will generally take from 5-7 days. Try to schedule the radon testing before the home inspection to have the results provided in the inspection report.
Be sure that your inspector is licensed and insured. Most states require this.

Education & Credentials
30 years of contractor experience,ASHI Certified Inspector, NACA approved Inspector, RESNET Certified,