Distinguished Home Inspections, LLC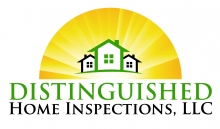 Distinguished Home Inspections, LLC
Reo Cheshire
32 Gold smith Road
Dallas, PA 18612

Phone: 570-406-1889
Email: Click Here
Website:
Description of Services
A Distinguished Home Inspection is an unbiased, professional assessment of the condition of the house you are considering purchasing. It provides you an expert opinion and professional report on the condition of the physical structure and various systems within the house. Giving you peace of mind on what is likely the largest purchase you will ever make.
It is the job of the home inspector to not only evaluate the condition of the house's major systems and structural integrity, but also to evaluate how these systems are working together and identify areas that need to be repaired or replaced.
In order to prepare the report, Distinguished Home Inspections will conduct a visual inspection of the house. The inspection process typically takes about 2 to 3 hours to complete. The actual inspection time may take longer depending on the size and complexity of the house. We strongly encourage you to be present for the inspection. This will give you a chance to ask questions and become familiar with the systems of the home.
Every inspection is a comprehensive analysis of all the major systems and components in the home. The inspection report includes a clear description of what we've found with any problem areas noted, so you can easily identify them. We also provide a free telephone consultation after your inspection.

Pennsylvania Areas Served by Distinguished Home Inspections, LLC
Services & Areas of Expertise
• Full Home Inspections - Every inspection is a visual and comprehensive inspection of the major systems and components in the home. The inspection report includes a clear description of what we've found with any problem areas noted, so you can easily identify them. We also provide a free telephone consultation after your inspection. The inspection process is not invasive.

• Commercial Property Inspections - Commercial property inspections are performed in accordance with the ASTM Standards of Practice. Commercial property inspections are sometimes referred to as Property Condition Reports, Physical Needs Assessments, Physical Condition Assessments, or Physical Condition Surveys. A PCA is a visual and non-destructive assessment of the site and grounds, structural systems, the exterior surface including doors, windows, and signage, roofing systems, mechanical systems, electrical systems, and interior components, and pool/spa equipment where applicable.

• Wood Destroying Insect Inspection - Wood destroying insects and other organisms can cause serious problems in the wood structural components of a house and may go undetected for a long period of time.

• Radon Test - Radon is the leading cause of lung cancer for non-smokers. You cannot see, smell, or taste radon. But it still may be a problem in your home. Testing is the only way to find out your home's radon levels. If you find that you have high radon levels, there are ways to fix a radon problem.

• Relocation home inspections

• Single System Inspection - Don't need the whole house inspected? single system inspections are available for Roof, Plumbing, Electric, Foundation, etc.

• Replacing a roof? Having a new home built? Remodeling a bathroom? Adding a deck?

• New construction phase inspections - We'll make sure your contractor does it right!

• Final walk-through inspections.

• 1 year builder warranty inspections.

• Annual inspections for home and commercial property owners.

• Pre-listing, seller inspections.

• Foreclosure inspections

• Insurance inspections

• 4-Point Inspections

Education & Credentials
• AHIT – American Home Inspectors Training Institute – 300 hours Master Course
• CRI – Certified Residential Inspector – AHIT,
• InterNACHI – Certified Member # NACHI13032011
• Radon Testing – Certified PA DEP, #2990
• Septic Inspector – Certified, InterNACHI
• Wood Destroying Insect Inspector – InterNACHI Certified
• Roof Inspector – InterNACHI Certified
• Deck Inspector - InterNACHI Certified
• Mobile Home Inspector – InterNACHI Certified
• HVAC Inspector – InterNACHI Certified
• Log Home Inspector – InterNACHI Certified
• Plumbing Inspector – InterNACHI Certified
• Repair Verification Inspector - InterNACHI Certified
• Exterior Inspector – InterNACHI Certified
• Electrical Inspector - InterNACHI Certified