Jamestown Home Inspections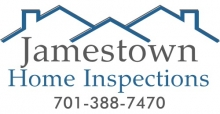 Jamestown Home Inspections
Bjorn Hanson
614 15th St. SE
Jamestown, ND 58401

Phone: 701-388-7470
Email: Click Here
Website:
Description of Services
Jamestown Home Inspections' owner Bjørn Hanson is a Certified Professional Inspector with over ten years of experience in the construction industry.

Bjørn was raised in Minot, ND and graduated from Minot High School. He continued his education in Moorhead, MN where he received an AAS Degree in Residential Construction from Minnesota State Community and Technical College.

During his career Bjørn has worked with many different contractors and general contractors, including Nill Construction in Jamestown, ND. He also worked as a Journeyman Union Carpenter in Minneapolis, MN. He has gained a wide range of experience working on many residential and commercial projects as well as large industrial projects including the CNRL Horizon project in Alberta, Canada which at the time was one of the largest projects in the world being constructed costing nearly $10 Billion.

Because of his education and on-the-job experience, Bjørn Hanson is able to give you a quality home inspection that will give you the information you need to make knowledgeable decisions when purchasing your next home.
North Dakota Areas Served by Jamestown Home Inspections