Pinnacle Commercial Inspections, LLC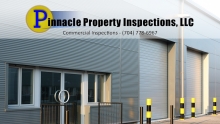 Pinnacle Commercial Inspections, LLC
Michael Krill
4100 Carmel Road Suite B-121
Charlotte, NC 28226

Phone: 7042347670
Email: Click Here

Description of Services
Rest assured that your Pinnacle Inspector is a licensed commercial contractor and is fully insured. Quality, accuracy, and experience are the reasons why people choose Pinnacle Property Inspections time and time again.

"There's Truly no Substitute for Experience"
20 years experience as a Commercial General Contractor
Certified State Multi-trade Building Inspector
10 years experience as a licensed Certified Building Official
NACHI Certifed Commercial Inspector
Indoor Air Consultant Certified
Certified Commercial Standard Roofing Inspector
Certified Fire Inspector

Most places, including Charlotte, require a specialized license for commercial (non-residence) inspections and environmental testing, such as a Commercial General Contractor's license. Our Inspector is licensed as a Commercial General Contractor, Unlimited, and has all the necessary qualifications you may need for a commercial inspection in Charlotte and surrounding area. Buildings we can inspect include banks, office buildings, churches, shopping centers, movie theaters, gas stations, hotels, and anything non-residential.

When you choose Pinnacle Commercial Property Inspections, you are choosing a fully insured company and highly qualified inspector. Our customers come back to us for our quality, accuracy, and experience.
North Carolina Areas Served by Pinnacle Commercial Inspections, LLC
Services & Areas of Expertise
Commercial Inspections, Residential Inspections, Environmental Inspections
Education & Credentials
Certified Master Inspector,
Commercial General Contractor (NC 73944)