Raska Sewer Service & Portable Toilet Rentals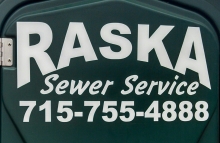 Raska Sewer Service & Portable Toilet Rentals
Keith Raska
93 state road 35
Osceola, WI 54020

Phone: 7157554888
Email: Click Here

Description of Services
Raska Sewer Service provides quality, professional,-Septic Inspections & Time of Sales Septic Inspections in: Wisconsin's Polk & St. Croix county's.
All in one septic inspections because we offer home buyer time of sales septic inspections, septic pumping and servicing, riser installation, septage service operator WOWRA certified POWTS evaluator and work closely with a reputable WOWRA septic Installer master outside plumber.
WI service area: Polk and St Croix Wisconsin's county's, Hudson, New Richmond, Somerset, Amery, Star Prairie, Osceola, Dresser, St Croix Falls, Milltown, Certuria, Luck,and Balsam Lake, Wisconsin.

Wisconsin Areas Served by Raska Sewer Service & Portable Toilet Rentals
Services & Areas of Expertise
Services include: Home buyer Time of sales septic inspections, Two or three year annual Sewer and septic inspections, Septic tank pumping and maintaining services, Video camera septic pipe inspections, Septic tank riser extention rings and septic tank cover installations. Jetting of septic pipes, Roto rooting of septic pipes, Septic tank root removal, Septic pump diagnosis, and Portable toilet rentals.
Education & Credentials
Licensed and Insured in Wisconsin. WOWRA Certified POWTS Evaluator. Serving St. Croix Valley +15 years.