Everyday Home Inspections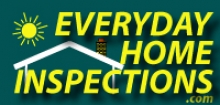 Everyday Home Inspections
George Lopez
Annapolis
Annapolis, MD 21401

Phone: 410-761-1752
Email: Click Here

Description of Services
Everyday Home Inspections are based on standards and procedures that can be found at the American Society of Home Inspectors, the National Association of Home Inspectors and all the major trade associations. These standards serve as a minimum level of care required to properly inspect a home. We are proud to say that our inspectors exceed these standards within their basic inspection. Plus we offer additional services such as inspecting for mold and Radon, wood destroying organisms, we inspect pools, sprinkler systems and just about all things real estate.
Services & Areas of Expertise
With 27 years experience in the construction and maintenance of homes. Our inspections are guided by personal experience and not by fancy tablet programs. After our informative through we provide you with a tailored electronic report with lots of pictures and detailed explanations. Our services include:

Mold Testing/Sampling
Mold Inspections
Mold Assessments
Mold Post Cleaning Testing
Mold Clearance Testing
Air Quality Testing
Allergen Screening
Radon Testing
Asbestos Testing
Lead Paint Testing
Pest Inspections
If you don't see what you are looking for, call us.
Education & Credentials
27 Years of Design & Build Experience.
Licensed Certified Maryland Inspector.
Additionally trained in Mold, Termite, Radon, Lead.
Home Improvement License
Realtors License
Design/Drafting
203K Consultant