Shearwater Home Inspections, LLC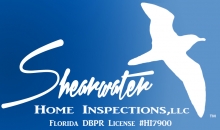 Shearwater Home Inspections, LLC
Thomas Dutkus
938 S. Pine Ridge Circle
Sanford, FL 32773

Phone: 407-310-6875
Email: Click Here

Description of Services
My wife and I moved to Florida in 2010 from Idaho to be close to the kids and grandkids. I came from Idaho where the winters are cold and the summers are hot and smokey.

We decided to retire to Florida someday after visiting my son and his Family several times a year for the last several years . We love Florida!! We got here a few years early of retirement.

Nothing I like doing (workwise) better than inspecting properties and helping the clients realize a safety concern or major defect that could have serious consequences if not addressed.

I have over 25 years experience performing fire protection inspections in hotels, warehouses, homes and assisted living buildings. I've been in construction over 30 years.
Shearwater Home Inspections is new to Florida but not new to inspecting and certifying properties safe for my clients. I give excellent customer service and service after the inspection .







Florida Areas Served by Shearwater Home Inspections, LLC
Services & Areas of Expertise
Serving Central Florida...
Pick the type of inspection you need and give me a call...
Standard Full Home Inspection
11th Month Builder Warranty Inspection
Move-In Certified™ Home Seller Inspection
Four Point Inspection
Wind Mitigation Inspection
I will also perform Condo/Townhouse Inspections, Annual Maintenance Inspections, and New Construction Warranty Inspection...
Your inspection will include the following:
Every accessible area will be inspected including the mechanical, plumbing, and electrical components. I will inspect the exterior and grounds,including the roof . See the Standards of Practice
for complete description of what I inspect.
The report includes descriptive narratives explaining any defects and I give recommendations for further action. Color digital photos are also included.
It will be sent to you by email as a PDF document so you can read it, study it, and
examine the photos. If you need any clarification or have any questions then you can call me, anytime.... Tom, 407-310-6875

Education & Credentials
Graduate from Professional Home Inspection Institute(PHII)
Florida DBPR Lic #HI7900
InterNACHI Certified Professional Inspector
InterNACHI Certified Roof Inspector, Electrical Inspector, Wind Mitigation Inspector