Rutherford home inspection service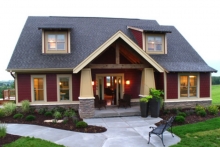 Rutherford home inspection service
Michael Rutherford
6060 Stoney pt
Flint, MI 48506

Phone: 810-272-8820
Email: Click Here

Description of Services
Looking for an experienced, well established Home Inspection Company?
Rutherford Home Inspection Service has been serving the Mid-Michigan area for over ten years...
Over twelve years experience in home building trades gives us knowledge & understanding of proper home functionality.
Guaranteeing we can & will provide you with an in depth, thorough, & accurate inspection.
Not only leaving you more knowledgeable of proper home maintenance & functionality. But assuring your confidence and understanding when making your home purchasing/or selling decision...
So before purchasing or selling your home/or property, be sure to call "Rutherford Home Inspection Service" we can help assure your Home, Health & Investment are safe and not at risk with your purchase...


A Full Home Inspection covers the following components:

- Grounds
- Exterior
- Foundation
- Roof
- Plumbing
- Heating/Cooling
- Electrical
- Interior
- Garage
- Kitchen
- Bathroom

Full Property/ Home Inspections starting @
$200.00 (Up to 800 sq ft.)
$250.00 (800 - 1,500 sq ft).
$300.00 (1,500 - 3,000 sq ft).
$350.00 (3,000- 4,500 sq ft).
$400.00 (4,500- 6,000 sq ft).
$500.00 (6,000- +).

Additional Inspection Offered:

Well Inspections (Starting @ $200.00)
Asbestos: ($175.00).
Radon Gas: ($175.00).
Radon in Water: (125.00)
Lead Paint: ($100.00).
Toxic Mold: ($125.00)
Pest inspection: ($150.00)(+$50.00 for crawl spaces).

Water Quality Testing Available: (starting @ $125.00):
Coliform, E. coli, Nitrates, Nitrites, Lead, Arsenic, Bacteria, Chloride, Chlorine, Copper, Fluoride, Iron, Radon, Sodium, Zinc, VOC's.


Contact Us @: 810-272-8820.
Michigan Areas Served by Rutherford home inspection service
Services & Areas of Expertise
Additional testing:

MOLD
LEAD
ASBESTOS
RADON
WATER QUALITY/ WELL QUALITY
WELL
SEPTIC
Etc...
Education & Credentials
Certified in the State of Michigan

Associates degree in Building Trades.

Over 13 years experience in Building Trades.

Over 10 years experience Inspecting Homes throughout Michigan.