Done Right Home Inspections LLC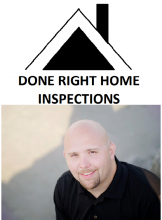 Done Right Home Inspections LLC
Derek Smith
195 Grandview Rd
Daniels, WV 25832

Phone: 276-393-1830
Email: Click Here

Description of Services
Buying a home is the biggest financial decision we can make. A home inspection is very important in the process I will conduct a home inspection for you as if I were buying it! When I had home inspections done on some of my previous homes I wanted 110% and I will give none less to my clients! I still firmly believe in "Do unto others as you would have them do unto you Matthew 7:12". I strive to make the home inspection process un-stressful and not worry my clients but be completely honest in my findings and to explain my findings in a way they can understand them. Upon the completion of the home inspection the client will be given a computer generated report created with a professional home inspection software within 48 hrs. During the inspection many pictures will be taken and provided to the client on a cd along with the inspection report.
West Virginia Areas Served by Done Right Home Inspections LLC
Education & Credentials
WV Certified Home inspector & Insured. Passed the National Home Inspectors Exam. Attended and completed the home inspection program at WVU.