Home Phase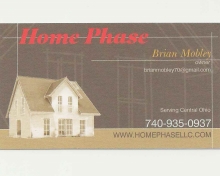 Home Phase
Brian Mobley
77 Morgan Dr. #17
Lucasville, OH 45648

Phone: 740-935-0937
Email: Click Here

Description of Services
Here at Home Phase we have 25 years of extensive experience in the home building process. This experience stands out next to other inspectors. We provide a knowledgeable and thorough inspection. Because of the many years of experience with the building process and procedures not only do we understand what we are looking for... but we also understand why it is there and the reason it was put there or not. After our precise inspection we are able to consult our clients with a knowledgeable consultation on any questions and concerns they might have. Home Phase we leave you more than satisfied with your home inspection service.
Services & Areas of Expertise
We provide home inspections for home owners as well as realtors, mortgage companies, and banks. Construction consultation is also provided.
Education & Credentials
:Ashworth college
:In the process of becoming ASHI certified