lenver real estate inspection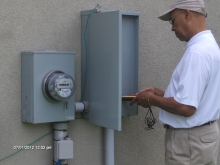 lenver real estate inspection
leonard hardy
252 mackenzie dr
Cibolo, TX 78130

Phone: 512 787 1110
Email: Click Here

Description of Services
Lenver Real Estate Inspection is owner and operated by leonard hardy, who performs each and every inspection. With this in mind you get peace of mind knowing that you have some one with 25 yrs of construction experience and 12 yrs as a professional real estate license inspector. Leonard is a college graduate. license by texas real estate commission lic. no 4801 a HUD inspector a member of nachi and tpreia.he has performed over 5000 inspections. if you honor me by permitting me to inspect your home, I guarantee you i will give you my very best effort. this i promise you.
Services & Areas of Expertise
Texas... hays,comal, guadalupe and sourrounding counties
Education & Credentials
Texas real estate inspector lic. no 4801
Insurance adjuster
termite tech.