HouseMaster of Glendora, CA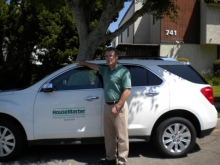 HouseMaster of Glendora, CA
Thomas Thayer
734 Claraday St., # 3
Glendora, CA 91740

Phone: 866-955-8619
Email: Click Here

Description of Services
At HouseMaster, we are committed to doing our best with each and every inspection. Because of our confident knowledge and training, we provide each client, at no charge a written Limited Inspection Guarantee. This guarantee assures you that your inspection will be both thorough and accurate. If problems arise with specified elements of the property which were found to be in satisfactory condition, HouseMaster will provide reimbursement for selected unexpected repair expenses during the Limited Inspection Guarantee period.


At HouseMaster, we encourage you to accompany your inspector around the house and ask any questions - this way all of your specific concerns can be addressed, and you will have a better understanding of the home's condition. At the conclusion of the inspection, your inspector will verbally review their findings with you. Following the inspection, a Computer Generated Report will be provided for your convenience. Typically your report is uploaded to a password protected website and is available for your review, the same day as the inspection, but never later then 10 AM the following day. The reports are easy-to-understand; include color digital photos and are always complete and thorough.


At HouseMaster, we believe in First Impressions and professionalism. Please feel free to call our scheduling center, where a live friendly voice will be available to immediately explain the home inspection process, answer any questions you might have regarding the process and provide you with more detailed information about some of our additional or ancillary services.


California Areas Served by HouseMaster of Glendora, CA
Education & Credentials
NIBI - Certified Inspector # 178910RT
ASHI - Certified Inspector # 250411
ESA - Certified Mold Inspector