NJ City Pest Mgt Corp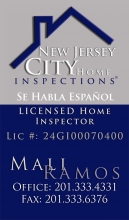 NJ City Pest Mgt Corp
Mali Ramos
264 Grant Avenue
Jersey City, NJ 07305

Phone: 201-333-4331
Email: Click Here
Website:
Description of Services
Your home is your biggest investment, and trying to find the right Home Inspector or Exterminator may be frustrating and challenging.

I am the Home Inspector of Record NJ License # 24GI00070400; NY License # 16000042610 and owner of NJ City Pest Management, not an employee.

I am also the Commercial Pesticide Applicator of Record NJ License # 28000B; NY License # C0839057.

I strive to maintain the highest level of quality control and offer superior service with a personal touch.

I started NJ City Pest Management in 2004. I am bi-lingual and fluent Spanish is spoken to make it easier for our Hispanic clients to understand what is happening during the inspection.

I take great pride in my work and strive to make each and every inspection an accurate unbiased assessment of the condition of the home you are buying. Whether inspecting a luxury home or a modest condo, I treat every inspection with the professional courtesy and attention it deserves.

New Jersey City Home Inspections and Pest Management is an experienced professional licensed home inspection and pest control solutions company located in Jersey City, NJ providing reliable premium services to the Garden State and New York.
New Jersey Areas Served by NJ City Pest Mgt Corp
Services & Areas of Expertise
Professional Licensed Home Inspection and Pest Control Solutions; Termite treatments; Bedbug Specialist
Education & Credentials
A member of ALPHI, NJ-NACHI, NJALPHI, NPMA & NJPMA