Building Inspection and Testing Company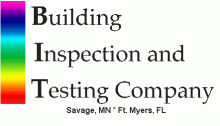 Building Inspection and Testing Company
Douglas Fendler
13940 Kentucky Ave S
Savage, MN 55378

Phone: 239-322-7046
Email: Click Here

Description of Services
There are literally hundreds of items to check and hundreds more to analyze and review when inspecting a home. A strict code of ethics is followed on all inspections and you can be assured that inspections are accurate, fair and impartial. The following is a partial list of items to be inspected:
• Roof covering, gutters, downspouts, venting and flashing
• Exterior materials, doors, landings, stairs, steps, rails, driveway and sidewalks
• Basement, foundation, crawlspace, structural components, foundation movement
• Heating, cooling, ventilation, visible ductwork, registers, filters, condensate line
• Check plumbing fixtures for correct operation, main water supply and shut off, supply lines, drain lines, traps, hot water heater, PRV, and drain pan
• Electrical panel, service type, meter socket enclosure, grounding, AFCI and GFI protected circuits, sub panels, disconnects, fire alarms, switches and lights
• Fireplace and chimney
• Attic ventilation and insulation
• Doors for proper weatherseal, hardware and function
• Sliding glass doors and windows for operation and caulking
• Garage door operation and opener safety features
• Check kitchen and laundry appliances for hook-up and operation
Easy to read and understand, computer generated report with photo documentation. Report is viewable on-line in pdf format available for downloading and printing.

Minnesota Areas Served by Building Inspection and Testing Company
Services & Areas of Expertise
We offer a number of inspection and testing services for the home owner, contractor and developer:Home Inspections, Commercial Inspections, Project and contractor oversight, Pre-Listing Inspections "Move-In-Certified", Specification Review, Product Review, New construction phase inspections, 1 year builder warranty inspections, Review Applications for Payment, Final walk-through inspections, Deficiency/Punch Lists, Mold Inspections and Testing, Radon Testing, Stucco/EIFS Inspections, Pools and Spa Inspections, Thermal Imaging, Water Quality, WDO/Insects, Water Infiltration
Education & Credentials
Member of International Association of Certified Home Inspectors (INACHI)
Member of International Indoor Air Consultants (IAQ2)
Certified State of Florida Home Inspector Lic# HI4647
Board Certified Master Inspector
Certified State of Florida General Contractor Lic # CGC053490
Certified Thermographer
Certified Mold Inspector
Certified Radon Inspector
Member St. Paul Area Association of Realtors