A Thorough Inspection Inc.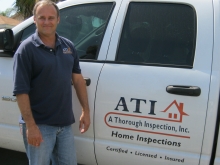 A Thorough Inspection Inc.
Bill Ostoyic
37 N. Orange Ave. Suite 500
Orlando, FL 32801

Phone: 407-476-0257
Email: Click Here

Description of Services
We are the premier Home Inspectors in Orlando FL. We specialize in new & pre-listing home inspections, 4 Point Insurance Inspection and Certified Wind Mitigations. Call us today at (407) 476-0257

When you select A Thorough Inspection to inspect your home, we guarantee that we will give you our very best, and live up to our name "A Thorough Inspection." We inspect every outlet, light switch, door, window, plumbing fixture, take the panels off of your electric box, and your air conditioner. We inspect every inch of the attic and crawl spaces we can fit in. When we are done, you will know everything about the home both good and bad.We inspect every home as if we were personally buying it and both Bill and John do all the home inspections together ensuring they miss nothing.

Florida Areas Served by A Thorough Inspection Inc.
Services & Areas of Expertise
Home inspections, pre sale inspections, new home inspections, 4 point insurance inspections, certified wind mitigation inspections
Education & Credentials
Bill and John have over 25 years combined experience in the building and construction industry.Are members in good standing of the National Association of Certified Home Inspectors and are state licensed and insured