THE VILLAGES HOME INSPECTION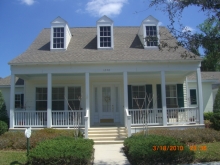 THE VILLAGES HOME INSPECTION
RICK TAN
1211 STONECUTTER DR. #308
Alafaya, FL 34747

Phone: 407-435-2882
Email: Click Here

Description of Services
Orlando Home Inspections specialize in all areas of home inspections. We are masters of mold and water intrusion, but also work on new home inspections, commercial building inspections, wind mitigation, four point inspection, children's asthma and allergy inspections, water intrusion, indoor air quality, and thermal imaging inspections. Thermal Imaging comes free with your home inspection.
Richard Tan has been in the Construction industry for the past 25 years, and has been doing home inspections in the Central Florida area as such. check out Florida Trend Magazine's write up on Richard and A+ American Home Inspections!

Florida Areas Served by THE VILLAGES HOME INSPECTION
Services & Areas of Expertise
TAMPA BAY, LAKE NONA, THE VILLAGES, ISLESWORTH, COCOA BEACH, NEW SMYRNA, REUNION, COCOA, PALM BAY, TAMPA, CLEARWATER, INDIAN ROCK BEACH, ST PETERBURG, CELEBRATION, NONA.
Education & Credentials
Over 25+ Years of Hands On Building Construction Experience
Over 5,000 RE-SALE Home Inspections Personally Performed
Over 1,100 New Home Construction Inspections
Member of American Society Of Home Inspectors, ASHI 212484
Member of Florida Association Of Building Inspectors, FABI RPI- 425
International Code Council ICC #5223097
Home Inspector HI4465
Mold Assessor MRSA2085
ICC Certified - Residential Building Inspector. ICC #5223098-B1
Certified Structural Masonry Inspector, SMI #2390
Certified Thermographer, Thermal Imaging CN #050311-46
Certified Stormwater Management Inspector, EPA #16337
Member of Residential Real Estate Inspectors, #0022565
New Construction Inspection Specialist Inspection Depot #1203
Certified Green Building For Building Professional, NAHB National Association of Home Builders
Member of IAQA, Indoor Air Quality Association, IAQA #8532
Certified Indoor Eviromentalist, IAQA #02634
Pro Lab Certified Mold Inspector, PROLAB #PLP-10567
Certified Mold Sampling - Hometest #200 and 300 Series Mold Inspector
Certified Business Management For Building Professional, NAHB
Quality Control and Management for Major National Home Builder
Certified Seminole County (SHIP) Program Inspector
Certified HUD Remodel and Restoration, Over 1100 Units
Owner of Professional Building Inspection Company for 9 years
Owner of Custom Painting Company for 10+ years
Owner of Drywall Company for 10+ years, Installer, Finish & Texture
Mig Welder, Punch Press, Pre-Fabrication, Manchester Tank, 2 Years
Rough Framing, Trim Carpenter, Truss Setter and Roof Deck, 3 years
Certified EIFS (Exterior Finished System) Applicator 2.5 years
Stucco Applicator for 2.5 years
Pool (Gunite), Tie Rebar, Excavation (Bob Cat) Operator 1.5 Years
Roof Deck & Shingles Installer, Built Up Roof Applicator 1.5 years
Expert Tile and Carpet Installer for 7 years
Over 2,000+ Bathroom Remodel and Restoration Specialist
Over 250+ Hours of Continued Education, FABI and ASHI
Maintenance Supervisor For Apartment Complex, 550 for 3 years
Heinz USA - Quality Control and Electrical Apprentice
Web Master for WWW.ORLANDOHOMEINSPECTION.COM
Certified SCUBA Diver
USAF